Fri 25 Feb 2011
Give your photos a touch of texture using these simple steps. Of course there are several ways to achieve this effect but I'm going to show you a really quick and easy method that everyone can do.
First start with a photo you want to play around with and open it in your photo editing software. (For this tutorial I will be using CS5 as my example, but the functions should work with most forms of Photoshop.) Second, if you don't already have a collection of textures, you'll need to get some. Here are a few places that offer free textures:
Coffee Shop Blog – http://www.thecoffeeshopblog.com/p/t…tal-paper.html
Flickr's Skeletal Mess – http://www.flickr.com/search/?q=text…33238509%40N04
You can also do a search either on Flickr or your favorite photo website for free textures & find more than you'll ever need. Miss Mint's textured & patterned papers make for interesting textures too! Once you've found some you like save them in a folder you can easily find.
In Photoshop, open the photo you want to play with & then open the texture you wish to use on the photo. Please note that textures aren't always going to be the same size as your photos. And if you're working with a black & white photo, but the texture is in color, you may have to change the texture to a greyscale to achieve the look you want. Also note, that if you are planning to have your textured photo printed it is important to make sure that the texture images you use are high resolution and not just web sized images.
Select the texture. (You can do this in a shortcut by using the keyboard Ctrl A, then Ctrl C). In your photo window you paste (Ctrl V). You'll see that by pasting the texture it created a new layer on top of the photo.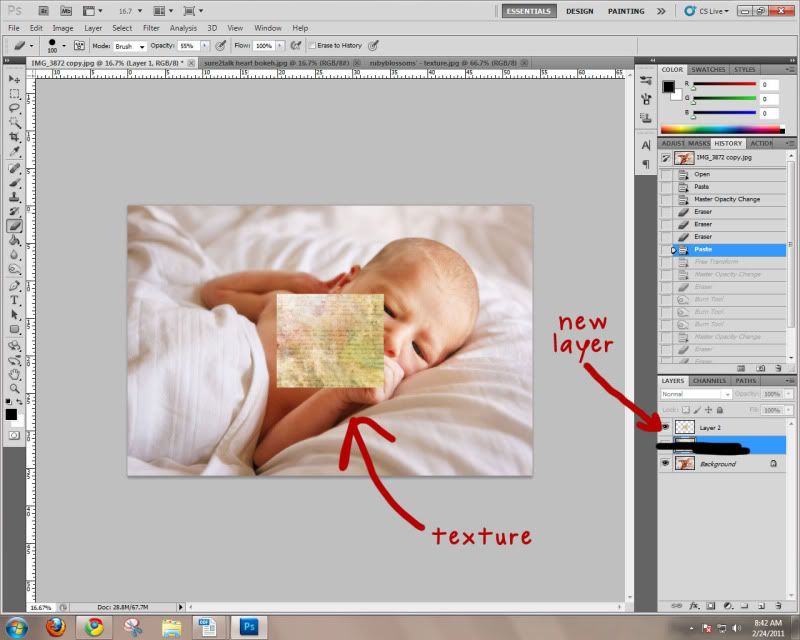 In my example photo you can see that the texture is considerably smaller than the photo. To enlarge the texture, Ctrl+T for a free form edit. Pull from the corners and stretch the texture until it's the same size as the photo. Hold down SHIFT while pulling the corners with your mouse to keep your image in proportion so it won't stretch or distort.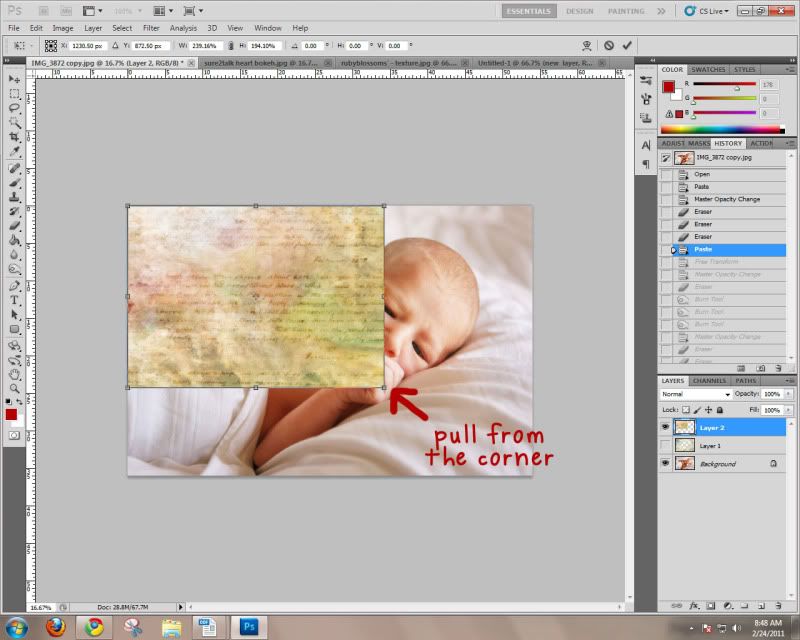 Now it's the size of the photo but it's covering up the photo. Change the opacity, and play around with the layer mode. Adjust the settings to your taste. (I have my opacity at 44% and I left my layer mode on "normal". Play around with the layer modes & see which one best suits your photo.) You'll notice that some of the "text" of the texture is covering the baby's face & doesn't look natural, so we must remove it.
Make sure the texture layer is selected, and using your eraser tool, (set the opacity to your taste, probably around 75%, and select a brush with a feathered edge) erase over the subject's face & skin for a more natural look.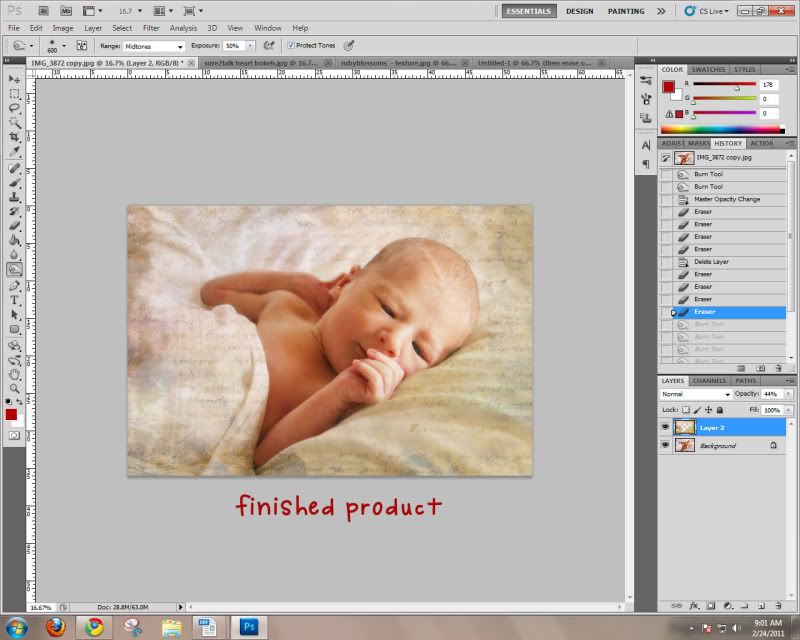 Make any other processing adjustments you wish & save the file as a JPEG. So there you have a short, simple & easy way to apply textures to a photo.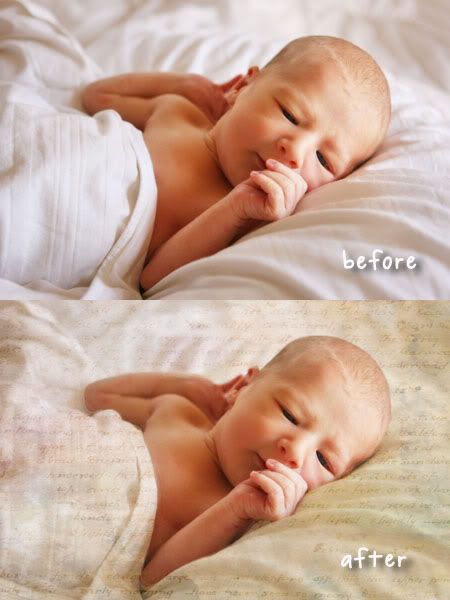 Happy Snapping!
Article & Photography by: Sarah Harbuck for PeppermintCreative.com
One Response to "Photoshop Tutorial: Applying Textures to Your Photos"
Terri Says:
March 1st, 2011 at 11:09 am

Just a thought….It would be a better idea to use a mask instead of erasing. Erasing is permanent, but a mask isn't.
Leave a Reply